2024 Hyundai Santa Fe: Redefining Excellence
MEET THE 2024 Hyundai Sante Fe
Step into a world where innovation meets sophistication. Introducing the 2024 Hyundai Santa Fe – a culmination of cutting-edge technology, striking design, and unparalleled practicality, both inside and out. Hyundai's commitment to pushing boundaries and delivering exceptional value shines through in this fifth-generation SUV.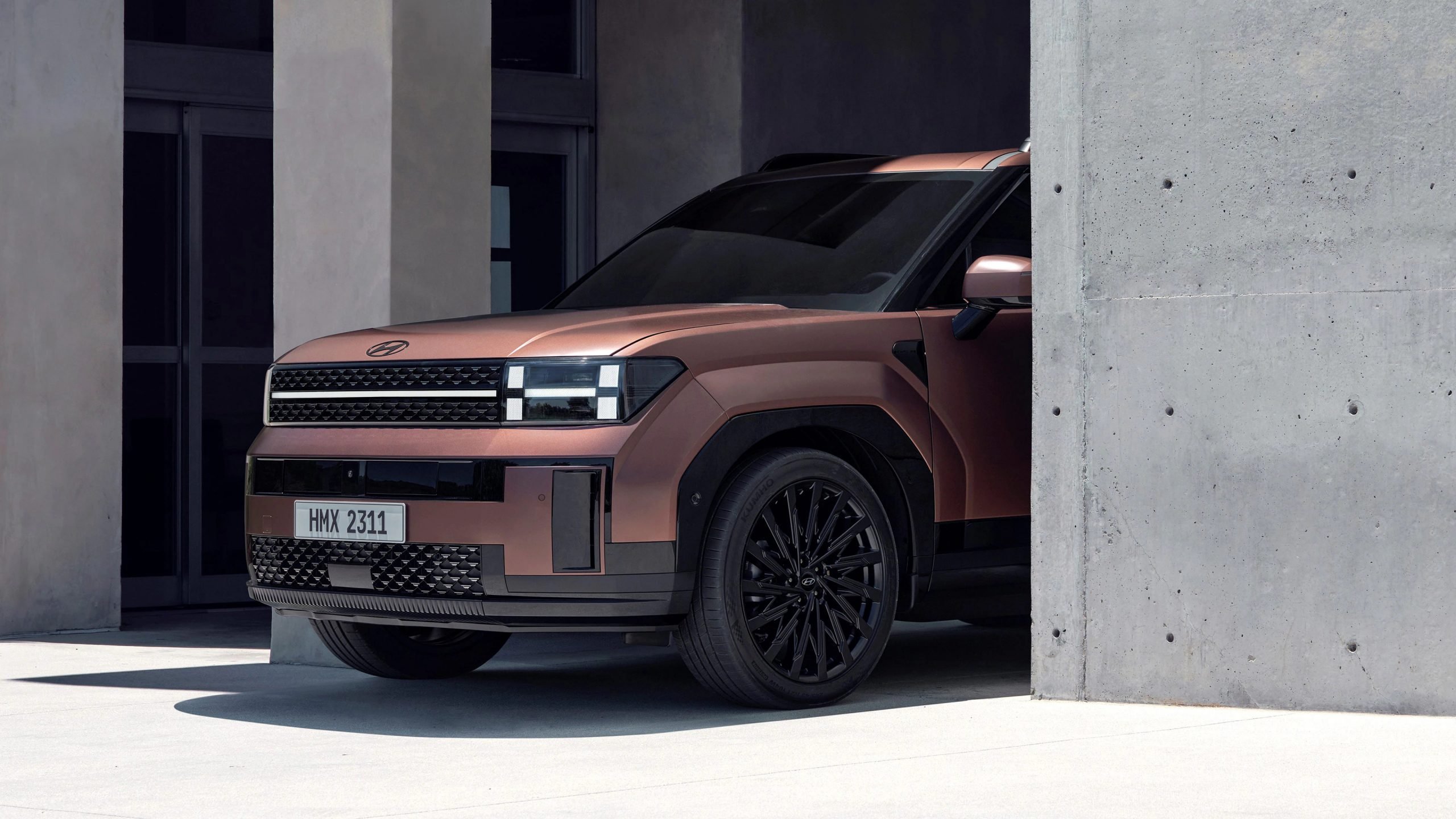 Bold New Design
The 2024 Hyundai Santa Fe stands as a testament to the evolution of automotive design. With a dynamic and futuristic exterior, this SUV is not just a means of transportation; it's an expression of elegance and modernity.
Versatile in Every Way
The 2024 Santa Fe is more than a stylish SUV; it's a versatile companion for every journey. Whether you're navigating city streets or embarking on a road trip, the Santa Fe adapts seamlessly to your needs with a third row that offers the most head room in the segment. Moreover, features like new relaxation seats with integrated leg rests ensure the highest level of comfort on every drive.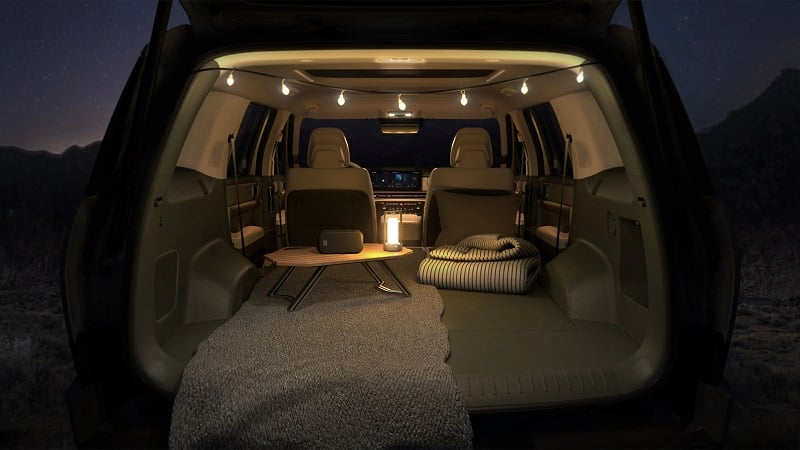 Get Noticed
Every angle of the 2024 Santa Fe exudes confidence and originality. From its bold front grille to its sculpted body lines, the Santa Fe demands attention on the road. Its captivating presence is a reflection of Hyundai's commitment to pushing design boundaries. The H-shaped headlights, available 21-inch wheels, and distinctive grille give the new Santa Fe an unmistakable visual signature.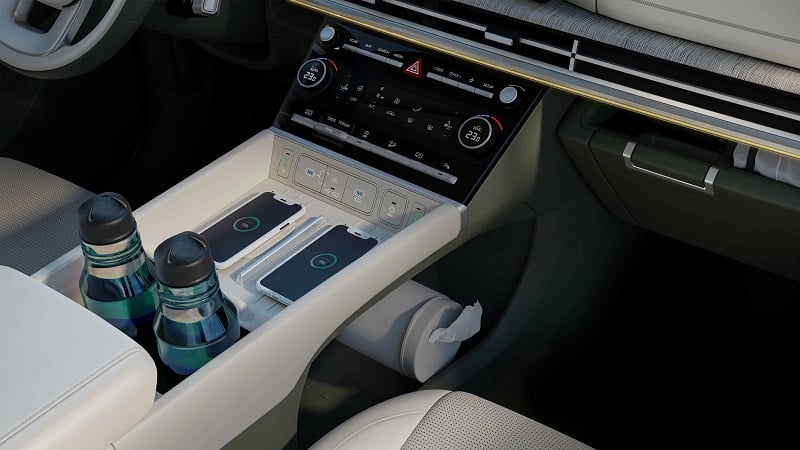 Cargo Capacity Redesigned
The 2024 Santa Fe redefines practicality. With a redesigned cargo space, it offers more room for your belongings without compromising on comfort. Whether it's luggage, groceries, or equipment, the Santa Fe is ready to accommodate with 91 extra litres of cargo space and the largest cargo area opening in the segment to make loading your gear easier.
Key Benefits
Advanced Safety Features
Safety is paramount, and the 2024 Santa Fe prioritizes it with an array of advanced safety technologies. From collision avoidance systems to driver monitoring, the Santa Fe keeps you and your passengers secure on every journey.
Three-Row Practicality
The 2024 Santa Fe's interior is designed with practicality in mind. With comfortable seating for up to five passengers, versatile cargo space, and intuitive storage solutions, the Santa Fe caters to your everyday needs.
Impressive Cargo Space
Space meets convenience in the 2024 Santa Fe. Its intelligently designed trunk offers ample cargo space, allowing you to carry everything you need for your adventures, whether big or small.
Safe and Capable
The 2024 Hyundai Santa Fe is more than a SUV; it's a reliable partner on the road. Its commitment to safety, all-wheel drive capability, and the right powertrain for every driver make it a standout choice in its segment.
Impressive Powertrain Lineup and Safety
Experience power and efficiency like never before with the 2024 Hyundai Santa Fe's range of engine options. Taking full advantage of the performance and efficiency benefits of turbocharging, the Santa Fe offers a powertrain to match your driving style.
The Right Powertrain
Choose the powertrain that suits your preferences. Whether it's the fuel-efficient 1.6-litre hybrid turbo with 180 horsepower or the dynamic 281-horsepower 2.5-litre turbocharged engine, the 2024 Santa Fe gives you the flexibility to drive the way you want.
Stay Safe
Equipped with a suite of safety features, including advanced driver assistance systems, the Santa Fe ensures a confident and secure driving experience. Safety isn't just a feature; it's a promise. The new Santa Fe also offers a first for a Hyundai vehicle in North America, the innovative Driver Attention Warning system that can monitor driver awareness and signal when the person behind the wheel is distracted or tired.
AWD Capability
Navigating different road conditions is a breeze with the Santa Fe's advanced all-wheel drive system. It provides stability and traction, making every drive smooth and comfortable. Moreover, the new Santa Fe has received considerable chassis improvements to ensure a more refined driving experience.
In Conclusion
The 2024 Hyundai Santa Fe transcends the traditional SUV experience. With its bold design, versatile nature, advanced safety features, and a commitment to your driving satisfaction, it's a vehicle that stands out in every aspect. Get ready to elevate your driving experience with the new Santa Fe – coming soon to redefine your journey. Contact us today to learn more.