2024 Hyundai Kona
The 2024 Hyundai Kona, transitioning into its second generation, presents prospective buyers with diverse engine options, notably a commendable all-electric variant boasting a 418-kilometre range. In addition to its electric offering, the Kona provides alternative powertrains, encompassing the dynamic N Line model, addressing the varied tastes of compact SUV enthusiasts. This updated Kona features an expanded interior, a refined contemporary exterior design, and a suite of state-of-the-art technologies, underscoring its enhanced safety and connectivity attributes.
Eye-catching Design
The 2024 Hyundai Kona is striking with its one-of-a-kind design that's certain to catch the eye.
Exterior
A distinctive exterior design distinguishes the 2024 Hyundai Kona from the rest of its competition. In order to achieve a bold, modern, and elegant exterior style, the Kona has been redesigned first as an electric vehicle, before becoming a traditional gas-powered vehicle. In comparison to its previous generation, the new Kona is bigger and wider than ever before, boasting a length of 4,350 mm and a wheelbase that has been extended by 60 mm. In addition, the vehicle has grown in width to 1,825 mm, ensuring not just a commanding road presence but also an enhanced interior volume as a result.
Hyundai's 2024 Kona Electric is a testament to its commitment to performance through design. One need just take a look at the impressive drag coefficient of just 0.27. Its streamlined nose and rear tailgate are prime examples of this aerodynamic efficiency. The dynamic chrome lines running from the belt line to the rear spoiler, combined with the integrated centre high-mounted stop light, further enhance its bold look.
A new lighting design will be introduced in the 2024 Hyundai Kona Electric variant, further enhancing its distinctive appearance. Pixelated Seamless Horizon Lamps and Pixel graphics add a fresh and contemporary touch. With these unique lighting features and a variety of exterior color options, the new Kona stands out. In designing the Kona, Hyundai ensured that it would appeal to a wide range of clients, reflecting their diverse lifestyles and preferences.
Interior
Hyundai has thoughtfully reimagined the interior space of the new-generation Kona. Leveraging its increased dimensions and electric-vehicle origins, the 2024 Kona provides a spacious passenger compartment suitable for active buyers, young families, and urban drivers looking for versatility in a compact format. The dashboard stands out, showcasing a streamlined horizontal C-Pad that seamlessly integrates dual 12.3-inch panoramic displays for multimedia and instrumentation. This design not only elevates the cabin's aesthetics but also facilitates user-friendly interactions with the Kona's features.
The Kona's updated interior emphasizes practicality and ergonomics. By relocating the shift-by-wire gear selector behind the steering wheel, Hyundai has effectively utilized the center console space. This adjustment, along with the reconfigured driver controls, maximizes the utility of the centre console, evident in additions like the rotational cupholder. Hyundai has also refined the front seats to be more compact, providing additional legroom for rear passengers. The unique Curveless Bench Seat in the back further enhances rear seat comfort by removing the traditional bump in the middle seat. A comprehensive 723-litre cargo area, expandable to 1,803 litres, provides a flexible cargo area that is substantially larger than what the previous Kona offered.
Digital Key
With its cutting-edge Over-the-Air (OTA) technology, the 2024 Hyundai Kona showcases a leap in vehicle connectivity. The 2024 Kona introduces Hyundai's advanced Digital Key 2 system for the first time in Canada. Near-field communication technology allows owners to do away with traditional car keys. They can instead use their NFC-enabled smartphones or smartwatches to control vehicle access, from locking to starting the engine. In addition, the upgraded version of the Digital Key 2 technology allows the owner of the new Kona to share access with other members of the household or friends. Another highlight of the new Kona is its Surround View Monitor, which provides drivers with the option to select from a number of viewpoints when parking to detect potential obstacles and make manoeuvering in tight spaces a lot easier.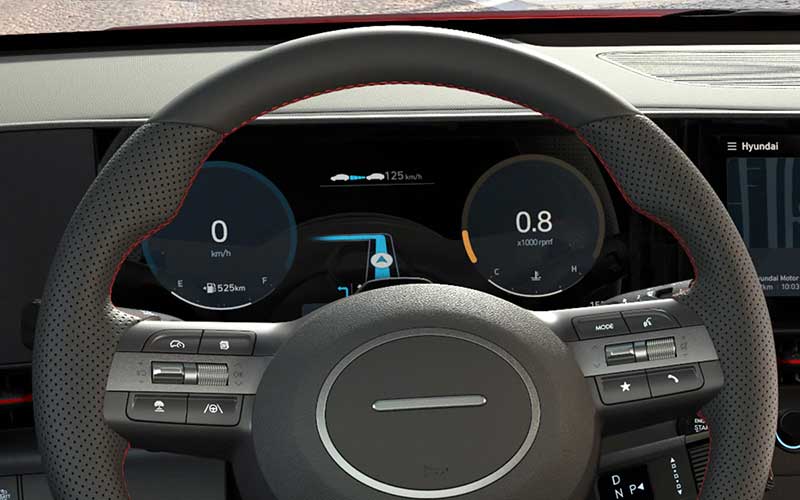 Features
A number of technological features are particularly prominent in the Kona Electric variant. Among these features is the innovative "funk" storage option, dynamic grille shutters, as well as the unprecedented "Vehicle-to-Load (V2L) functionality. Its bi-directional charging capability means that it can be a true lifesaver during power outages or when you are exploring the great outdoors, allowing you to power your devices or charge your electrical gear from small burners to camping essentials when you are away from home. Ultimately, the vehicle's front charging port is intended to serve as a power source when it is stationary, as well as a charging port. With the introduction of the i-PEDAL, driving will become an intuitive experience thanks to the single pedal that can be used for slowing down, stopping, and of course accelerating in accordance with the driver's needs. Adding to this is the Smart Regenerative System, which adapts in real-time to traffic patterns in order to maximize a vehicle's ability to regeneratively brake as it travels.
New Versions
The 2024 Hyundai Kona returns with a similar model lineup to what consumers have been used to. Each model has however been enhanced with new technology, enhanced interior and exterior designs, and more spacious and versatile interiors.
Engine
Under the hood of the 2024 Hyundai Kona, innovation and power are blended to optimize performance and efficiency. It offers a choice between two traditional engines and an electric variant. The 2.0-litre 4-cylinder Atkinson engine stands out for its efficiency, delivering 147 horsepower and 132 lb.-ft. of torque. Paired with Hyundai's Smartstream Intelligent Variable Transmission, this engine strikes a balance between power and fuel efficiency. Its Atkinson cycle design further refines fuel consumption by optimizing the cylinder expansion ratio.
Kona N Line
For those looking for a more dynamic drive, the Kona N Line offers a turbocharged 1.6-litre engine, producing 190 horsepower and 195 lb.-ft of torque. This engine is designed for quick responsiveness, ideal for city drives or passing on the highway, and is paired with a state-of-the-art eight-speed automatic transmission.
Kona Electric
The electric variant of the 2024 Kona comes equipped with a 64.8-kWh battery, offering a range of up to 418 kilometres. Furthermore, the electric model doesn't skimp on power, providing 201 horsepower and 188 lb.-ft of torque, proving that eco-friendly can also be powerful.
Kona Electric Charging
Hyundai's dedication to forward-thinking design is evident in the battery's rapid charging feature, allowing it to charge from 10% to 80% in roughly 43 minutes.
Frequently Asked Questions about the 2024 Hyundai Kona
The 2024 Hyundai Kona is on sale now.
The 2024 Hyundai Kona is offered in multiple versions.
Essential FWD (Front-Wheel Drive): $25,999
Essential AWD (All-Wheel Drive): $27,999
Preferred FWD (Front-Wheel Drive): $28,499
Preferred AWD (All-Wheel Drive): $30,499
Preferred AWD Trend (All-Wheel Drive): $32,499
N Line AWD (All-Wheel Drive): $35,499
N Line Ultimate AWD (All-Wheel Drive): $38,499
Pricing for the 2024 Hyundai Kona Electric has not yet been released, but expect it to be eligible for both Canadian and provincial electric vehicle rebates.